1 John 1:5 says, "This is the message we have heard from him and proclaim to you, that God is light, and in him is no darkness at all." Covington Theological Seminary's new blog wants to be about giving forth the glorious "message we have heard from Him." Thus the title "Message from Him." We want to take topics of the culture today and tell you the reader what God says about it without bias or influence from anyone or any organization. We want to give you the message from Him - the message that has no darkness at all - only the truth.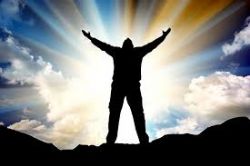 Monday, June 29, 2015 • Gary Fleetwood • Salvation
Salvation is an important thing to understand. The enemy would have us ignorant of the impact salvation has on our lives, but the Word of God is clear. Dr. Gary Fleetwood goes directly to the Scriptures to show us the impact of Salvation on our lives and the "great change" that it has on our lives for the glory of Christ.